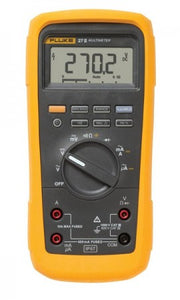 Fluke 27 Series Analog Digital Multimeter
Fluke 27 Series Analog/Digital Multimeter
Extremely Rugged, Water Resistant, O-Ring Sealed for Harsh Environments
The Fluke 27 combines accurate digital and analog measurement capability with extreme ruggedness and durability.  They have cases twice as thick as other DMMs.  They are totally sealed, waterproof to 3 feet (one meter) for one hour, tough enough to withstand contaminants, chemicals, accidental drops and serve electrical overloads.  Designed to meet military specifications of MIL-STD-28800 for Style A, Class 2 instruments, the Fluke 27 performs under the extremes of heat, cold, humidity, shock, electromagnetic interference, vibration and downright abuse.
3200 count digital display for accuracy and resolution.
31-segment analog bar graph for fast peaking, nulling zero adjustments and capacitor checking.
Fast auto ranging and manual ranging.
TouchHold® function captures and locks the measurement and automatically updates with the next measurement.
Conductance for high resistance measurement.
Min/Max and Relative modes.
Conforms to IEC 1010-1 CAT III.
SAFETY Designed
Rugged SAFETY features include extensive overload protection, high energy fuses, fused 10A range, and non-metallic cases and tilt bail.  All voltage inputs recover or fail safe under power line surge test for major feeders.  This includes simulated lightning and load switching transient pulses up to 6 kV superimposed on 660 V power lines.
Multimeter (yellow case) includes a pair of SAFETY designed TL75 right-angle test leads, two insulated alligator clips, spare fuse, 9 volt battery and operator's manual.
Features:
Digital Display/Counts 3200
Analog Bar Graph/Segments 31
AC & DC Voltage
Resistance
Diode Test
Fast Continuity Beeper
Auto and Manual Ranging
Superior EMI Shielding
Operates from -15°C to 55°C (5°F to131°F) and 95%
Relative Humidity
Rugged, O-Ring Sealed Case
Built-in Tilt Bail Hanger
Meets Military Shock, Vibration andWater-Proof
Requirements
Min/Max and Relative Mode
Lifetime Warranty
Specifications:
VDC Range and Resolution: 320 mV, 3.2V, 32 V, 320 V, 1000 V
VDC Best Accuracy:  +(0.1% +1)
VAC Range Resolution:  320 mV, 3.2 V, 32V, 320 V
VAC Best Accuracy: +(0.5% +3)
ADC Range and Resolution:  320 μA, 3200μA, 32 mA, 320 mA, 10A
AAC Best Accuracy:  +(0.75%+2)
Resistance Range and Resolution:  320 Ω,3.2 kΩ, 32 kΩ, 320 kΩ, 3.2 MΩ, 32 MΩ
Resistance Best Accuracy: +(0.2%+10)
Conductance Best Accuracy: +(2%+10)
Battery Life:  Typically over 1000 hours (alkaline)
Size:  8 x 3.75 x 2.2 in
Weight:  1.6 lb
---
We Also Recommend