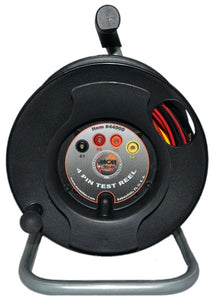 MC Miller Soil Resistivity Reel
MC Miller 4 Pin Soil Resistivity Test Reel w/Test Leads
Single, 4 wire reel system offering a maximum pin spacing, with respect to a 4-pin linear array (Wenner methodology), of 20 ft (approx. 6.5 meters). The reel is positioned at one end of a 4-pin linear array.

The single reel wiring system comes with a set of four (4 ft long) color-coded banana plug leads (Cat. # 44698) used to connect the four reel wires to a 4-terminal resistance meter (see Miller 400A or Miller 400D).

The reel has the following features:
Stamped aluminum construction with an anti-backlash drag.
Lightweight design.
Houses four color-coded banana jack terminals (two on each side of the reel) for banana plug cable connection to a 4-terminal resistance meter.
Specifications:
8" Diameter.
One 65 ft long black wire, one 45 ft long red wire, 25 ft long orange wire and one 5 ft long yellow wire (all four wires are #16 AWG with PVC insulation).
4 banana jack terminals:  One black, one red, one orange and one yellow.
---
We Also Recommend